We adore dogs and believe that feeding them well is the best way to show our love. So we created Ollie: fresh meals made from real ingredients.
Why Ollie
Better Ingredients
Wholesome, human-grade, and full of fruits and veggies—nothing artificial ever.
Tailor-made For Your Pup
Customized portions based on your dog's activity level, age, and more.
Delivered To Your Door
With a regular scheduled delivery, you'll never worry about picking up your food again.
We started with better ingredients.
Our vet-formulated recipes are made with high-quality meat from human-grade farms in the US and Australia.
Salt
Made up of sodium and chloride, two essential minerals. Sodium and chloride are electrolytes that help maintain the water balance in the body.
Learn more about our ingredients
Then we tailor your dog's unique recipe based on their one-of-a-kind profile.
How to Ollie
Your box arrives
Your dog's meals are shipped every 1 to 2 weeks depending on their plan.
Put your trays away
Your food will arrive cold. Refrigerate your trays within 12 hours to keep Ollie fresh.
Follow your plan
Every Ollie order includes your pup's custom plan.
Your custom scooper ensures your dog gets the perfect portion every time.
If your dog's tastebuds aren't doing backflips,
we'll refund your first box (paw's honor).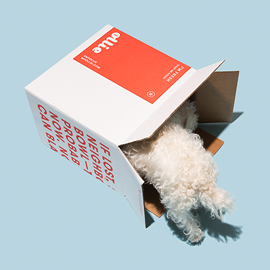 So how much does this cost?
The price is based on your dog's calorie needs, with small dogs starting at $3/day.
Ready to make your dogs drool (more than they already do?)
We have a pack mentality—we contribute 1% of our revenue to shelters and rescues.